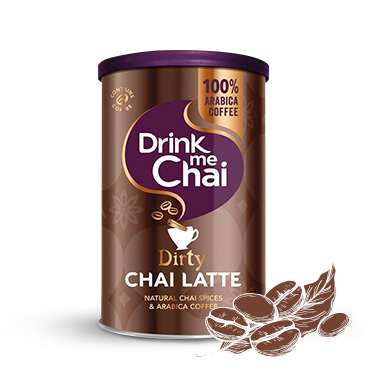 Dirty Chai Latte 200g
Our Dirty Chai is a deliciously balanced taste experience which marries the sweet & spiced flavour of Drink Me Chai Latte with the complex notes of Arabica Coffee.
Cafe-style dirty
chai latte at home
Made with 100% Colombian microground coffee, skimmed milk, sugar, and Drink Me Chai's secret spiced chai latte blend. Made with natural & authentic chai spices.
How to make me
With Water
3 teaspoons of powder into a cup
Stir in 200ml hot water
With Milk
3 teaspoons of powder into a cup
Stir in 250ml hot milk
With Ice
4 teaspoons of powder into a cup
Pour in cold milk and whizz with a milk frother
Serve over ice
A powdered blend of aromatic spices with skimmed milk & sweetened black tea
DMCHAI250T
Ingredients
Sugar, Skimmed Milk Powder (21%), Coconut Oil, Dried Glucose Syrup, Maltodextrin, Caramelised Sugar, Instant Black Tea (2%), Cinnamon (0.6%), Spices, Modified Starch (E1450), Thickener (E466), MILK Proteins, Stabiliser (E451i), Natural Flavouring.
recipe inspiration
Chai Latte Overnight Oats
Chai & Raisin Jumble Loaf
Chai Spiced French Toast With Plum Compote
Courgette & Cheddar Muffins